Please follow the steps below to manage your Cookidoo® account.
You can see the following in your account on Cookidoo®
Once you are logged into your Cookidoo® at Cookidoo.thermomix.com.
1. In the top right hand corner please click on your name and then click on "Account." If you are viewing this from a mobile device through your browser, you will click on Menu in the top right hand corner and then "Account."

2.This will bring you to your account overview where you can see information about your account, your membership, devices, and much more. Please see the information below for details on what you can find on each tab of your account page.
3.Account Overview - Here you will be able to see your current membership status, membership expiration date, and any devices you currently have tied to your account.
4.Membership - Here you will be able to see your current membership information which includes your membership type, status, expiration date, and payment type. You can renew your membership here and see the payment method you have on file. You can also add or update your payment method here. Please note we only accept Visa or Mastercard. You can also cancel your subscription here to avoid being auto-charged when the membership expires.
5.My Devices - Here you will be able to see what devices you currently have attached to your account. You can add new devices here by clicking on the Add Device button, selecting which device you would like to add, and then entering the requested serial number or Cook-Key ID. Please note you cannot add a TM6 from here, you must log into Cookidoo® directly on the TM6. You can have up to a maximum of 5 devices added to your account.
6.Purchased Content - All previously purchased collections and recipes can be found here and can be added to My Recipes in order to synchronize it with your Thermomix®. Please note we not longer sell collections.
7.Vouchers - Here you will be able to enter Cookidoo® vouchers to extend your Cookidoo® membership. You will need to copy and paste your voucher code into the provided box and hit redeem in order to redeem your Cookidoo® voucher. Vouchers are only available on select promotions.
8.Data Usage - Here you can see our Terms of Service and our Privacy Policy. You can also turn on or off the following options.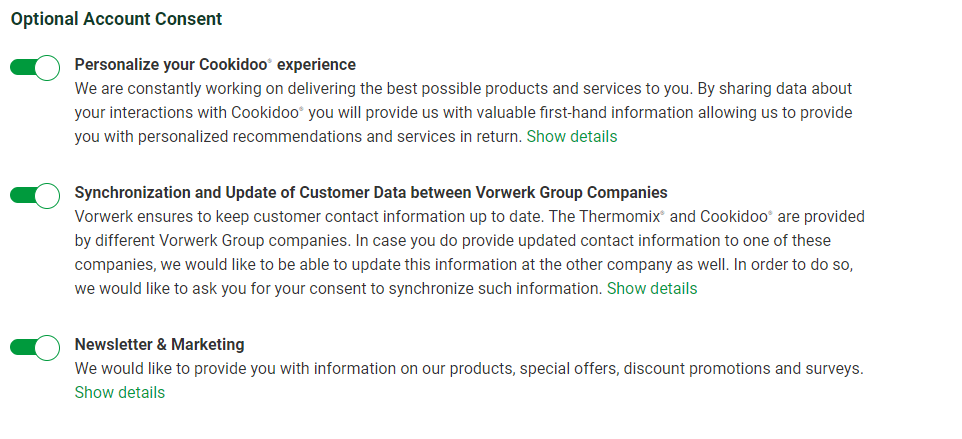 9.Change Profile - Here you will be able to change your Cookidoo® account name and email address. To make these changes you must enter your password. If you registered in North America you can also change your country of residence to either USA, Mexico, or Canada. Please note you will not be able to change your current email address to a different email address that is already tied to a Cookidoo® account.
10.Change Password - Here you will be able to change your password. In order to do this you will need to type in your old password, then type in a new password and then confirm the new password is correct. After that has been completed you can hit the change button at the bottom of the page to change your password. If you do not remember your password you can log out of your account and on the log in screen click forgot password to be emailed a link.